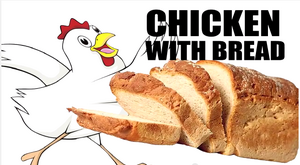 Chicken With Bread is a restaurant that serves many types of food. These guys take a hint and put a ton of popular things on the list and they also ave there own specials like the Chickenmeal and Big Bread, both made to rival McDonald's. They are such a good restaurant. They even get Cogs to come! And they usually only eat at the CEO's Meeting Room!
List of Food
Water
Chickenmeal
Big Bread
Poison
Lungs
Hearts
Liver
Blood
Bread
Chicken (fried or grilled, but most chose fried because it's unhealthy.)
Chicken and Bread
Extra Large Chicken
Extra Large Bread
Extra Large Chicken and Bread
Jam
French Fries
Chocolate Chicken
Chocolate Chicken and Bread
Teriyaki Chicken
Toast
Curly Fries
Cheese Fries (pure cheddar in fry form)
Live Chicken
Notable people who visit Chicken With Bread
Responses
I like the blood - Bloodsuckers
Makes me H...A...P...P...Y - Giygas
I LOVE CHICKEN WITH BREAD!! - Somebody
Maybe I will come here again sometime..... - Metal Mario
Yup, that wasn't too bad! - Hungry Pumkin
Community content is available under
CC-BY-SA
unless otherwise noted.