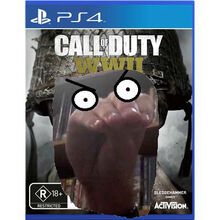 Call of Ducky: DW2 (Ducky War 2) is the latest is the series of Call of Ducky shames. It is also the first Call of Ducky Shame to be set in the 2nd Ducky War since Call of Ducky: World at War. It also sucks, so there's that too.
Plot
You play as UnAmerican Infantry George Generic, which is funny since the United States of UnAmerica didn't participate in the 2nd Ducky War, as he and his ragtag band of sociopaths well-disciplined, all-heroic squad invade France to help Hyrule and the Mushroom Kingdom defeat the misunderstood and incredibly demonised Evil Ducky Empire. You land on the beaches, guns ready to go...and then are brutally gunned down by the French because they don't want a FIFTH country invading them. And that's the entire game.
Shameplay
The goal of the main story is to try and invade France to stop the Ducky Empire, but the writers were lazy so you can't get off the beach without dying. So Singleplayer was a bust. The Multiplayer, by most accounts, was ok but Everybody thinks that it's the cheap, dollar store equivalent to Call of Ducky: World at War. So now Nobody plays it and instead they're waiting for Call of Ducky: Black Ops 4.
Reception
Everybody was really hyped for this Shame. Nobody plays it. Biased Ratings said it was "The best, UnAmerican Shame ever and everybody should play and love this shame. Now please, let out families go- *bang*". IGN, wisely, refused to review this shame.
Batman was nowhere to be seen for comment.
Community content is available under
CC-BY-SA
unless otherwise noted.