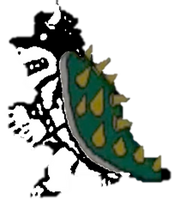 Bowzah
is
Super Malleo's
arch nemesis and (arguably) best friend.
Plans of Bowzah
In almost every Unintendo Shame, Bowzah is the main antagonist. He always finds ways to get fatter than Super Malleo, and hires Trolls and evil demon warlords to kill Super Malleo before he can regain obesity.  Super Malleoh is always eating trolls to get fat, but Bowzah is too Stupid to realize that.  Bowzah also is too idiotic to realize that evil demon heads are what always make him explode and brought back to life every 6,000 years.
Community content is available under
CC-BY-SA
unless otherwise noted.