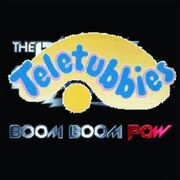 This is the 55th episode of Teletubbies. It's also a song by the Black Eyed Peas.
Plot
Tinky Winky gets Dipsy to make a special exploding whoopie cushion so he can prank one of the other Teletubbies. The Voice Trumpets tell Tinky Winky to prank Laa-Laa, so he puts the whoopie cushion on Laa-Laa's seat right before she is just going to sit down and indulge in some Tubby Custard. Not only does it fart, but it also explodes. Laa-Laa grabs an AK-47 and kills Tinky Winky for that.
The Teletubbies celebrate by watching an episode of The Lingo Show on dead Tinky-Winky's belly.