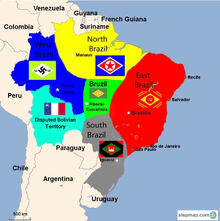 Bolivia officially the Calais Department of Bruzil or South West Brazil was a disputed territory between West Brazil & Bruzil much like the United Brazilian Kingdom.
History
Just prior to the Brazilian Divide, Bolivia had taken over a small amount of Brazilian Territory.
This small amount of territory turns out to be where the country of Bruzil would be formed after the Divide, thus when it happened, Bruzil "conquered" Bolivia, turning into the Calais Department of Bruzil.
However, while in the process of invading, Brulk Rogan invaded West Brazil and became the new leader. It was after that point, that Brulk decided Bolivia should be part of West Brazil, thus lead his own invasion.
Ever since then, the territory has been disputed, but more often then not is marked as West Brazilian due to the fear brought on by Brulk Rogan. The borders between West Brazil, Bolivia, and Bruzil are extremely well monitored and nearly impossible to cross without paperwork or authority approval.
Recognition
Bolivia was Recognized only by Bruzil and France despite being a state, it is treated as a country by Bruzil and France only, while the Other Brazilian States plus The United Brazilian Kingdom see it as Occupied West Brazilian Territory
Polotica
The Prime Minster is Hajime Kunihiro and the Governor General is Jack Thompson, it is a member state of the South American Union and its capital is Bougainville ( formerly La Paz)
Flag
The Flag is the French Tricolor with the flags of Bruzil and West Brazil in the middle of the Tricolor
This is because the Area is a mostly French Ethnic Enclave.
The Other flag is the official government flag issued by both the West Brazilian and Bruzilian Goverment it is a tricolor with the omani tree on it.
Community content is available under
CC-BY-SA
unless otherwise noted.