Barbabravo is a satanic, demonic, and very evil Barbapapa made by Barbapapa. Barbabravo recently made a computer system called Mac OS X Barbapapa with Apple Electronics.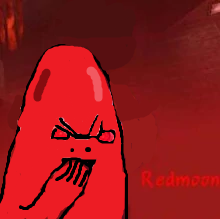 History
Barbabravo came from, of course, Barbapapa DNA. He then advertise guns, dynamites, tanks, etc. for his fanmade market, "Barbabravo's Danger Store". He also helped his dad in 2006 for The Barbapapa Movie, in which the production started in 2005; the movie was released two years later. Back to Barbabbravo, he's still helping his dad in 2015, which is the year for the beginning of the production of The Barbapapa Sequel : A Teletubbies Crossover Movie, that will be released in 2020.
Barbabravo today
Barbabravo wants to create another nember of the family, but Barbapapa ban him from doing that.
In the future
In the future, Barbabravo will produce the future Barbapapa films such as "The Barbashadow"(2051).
Community content is available under
CC-BY-SA
unless otherwise noted.