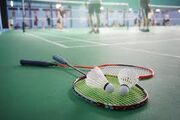 Badminton is a sport that some guys play in their meantime, it inolves hitting a small Shuttlecock into the other side's floor to score a point or something like that. Badminton is a cool sport thingy, but not many people play it really.
History
Badminton was made in 1981 by Steve Jobs when he was trying to make a thing called the ISport, this idea never made it, however, it had a original sport in it called, "Steve-Jobs-Is-Goodminton" and it was about hitting a model for a makeshift dart into the other guy's side, and he eventually made it a reality to be twice as rich.
But then Chuck Norris came along and used a Roundhouse Kick and made it into a sport called, "Steve-Jobs-Is-Badminton" or, "Badminton" for short. The dart model was replaced with a cork ball that has plastic on it, referred to as a, "Shuttlecock" and Steve Jobs' name was taken off of it, we do not know why at the moment, it is speculated that he dislikes self advertising.
How to Play
It's literally just Tennis, but the Tennis Ball has feathers and stays in the air longer, may I need to say more?