Bad Mr. Frosty

If you want your kid to get raped or murdered, let them play in the snow.

Gender:
Male
Hair color:
None
Eye color:
Coal
Species:
Claymade Snowman
Home:
The North Pole
Death:
N/A
AKA:
Frosty
Likes:
to kill Sumo Santa and take over the North Pole
Dislikes:
Sumo Santa
Education:
Probably really twisted
Occupation:
Wrestler of the North Pole
Known For:
Beating up evil and good, he just likes fighting and relaxing at his house
Quotes
Gallery
Bad Mr. Frosty started out not as a gay snowman, but as a mutated circus man who became Bad Mr. Frosty. Frosty also loves Hot Coco, but more than that, he hates the Claus family.
As a circus loser
Originally, he was known as Bob George; that is untill he was mutated into a clay person. He entered a tournament to rule the circus, but was defeated by Taffy and he got pissed. Luckly, the winner (Taffy's Win) shared a part of the circus with him so he can sell ice cones. In Tiny's win, he hade fun of Bad Mr. Frosty and they became friends.
Serving time in jail
Bad Mr. Frosty had to spend time in jail because he beaten up
Santa Claus
as well as raping children. He got out of jail early because a mystery person freed him (Tiny).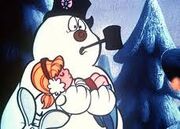 Tiny and Frosty then formed a gang so they could beat up people, and yes, they did.
Adult Life
Bad Mr. Frosty got a job, but got fired, so he decided to take revenge on
Sumo Santa
(Santa's forgoten cousin) and the two battle for the North Pole,
Santa Claus
sent his brother to hell, and Frosty a home. Currently, Bad Mr. Frosty is having a good life at the north pole.
Community content is available under
CC-BY-SA
unless otherwise noted.