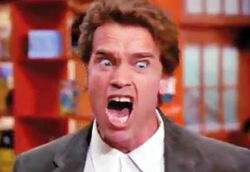 Come with me if you want to live.
  —Arnold Schwarzenegger threatening some old lady.
Arnold Schwarzenegger (otherwise known as Arnold Schwarty, Arny Schwarty, Nigel Schwarz, or The Terminator) is a great warrior of ice and Coltan. Not only is he really cool and chill, but he is also a cold-hearted murderer. Not to mention he is the son of great Undefeatable god T-5000. Arny is not to be messed with under any circumstances. He'll ice you for sure.
Arny first started out as a baby inside his mommy's tummy. T-5000 was the father. When Arny was born, he got blessings from three of the five great Undefeatables. Though Chuck Norris decided this mortal was not worth his time, Arny still gained immense power. Arny used this power very wisely.
First, he made a name for himself as Conan, great Barbarian! Then he became the Terminator, destroyer of all. Then he became the Commando! At this point, T-2500.5 become worried about his position on the Lower Counsel of Undefeatables. Fearing Arny was planning on overthrowing him, T-2500.5 attempted to kill Arny. Though Arny survived, he suffered massive brain damage. He called himself Mr. Freeze, moved to Gotham and starred in Batman & Robin. This is often cited to be the end of Arny Schwarty. After this, he became a lowly politician and cried forever.
Following some weird stuff that had to do with Vinesauce, Thor and the Nordic countries in general, Emperor-Regent Will Smith decided to appoint him Governor of California. At some point after this, Professor Oak was run over by a car driven by Brian Griffin in Southern California. Enraged on behalf of his friend, Arny contacted Smith and they listed Griffin as one of the most wanted criminals of the Empire. Arny then ordered a Statewide manhunt for Griffin, but he was able to escape into UnAmerica where he was granted political asylum. Then, he remembered he could do cool robot stuff, and tracked down Brian and Terminated™ him, much to UnAmerica's chagrin. This kickstarted tensions between the left-leaning West Coast and right Midwest, which were then resolved 5 seconds later.