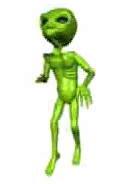 Aliens are extra-terrestrial creatures from another planets with ugly retarded faces. Master Chief deeply hates aliens.
Appearance
Aliens looks like Justin Bieber only 10 times worse. They have a blank-looking dark eyes because, they haven't slept for 87 years. They haven't slept because, they are so busy creating spaceships to invade other planets.
Origin
Some people said that aliens are cow manure that has been mutated and comes to life, but no one really knows what is the origin of aliens. Some people said that aliens are jelly that has been mutated.
For a full list of known aliens, see here.
We cater to aliens!
Community content is available under
CC-BY-SA
unless otherwise noted.