1-2-Swiss is a weird Shame on the Nintendo Switch. It gets one to be (sexually) active but fails miserably.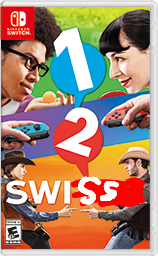 Plot
You need a friend and the two must just do stuff with the Joy-cons, there is only one minishame for a single player, it is just embarrassing.
Minishames
Knife
The left guy must act like his Joy-con is a knife, and is wanted to chase the right one, and must stab him in the heart, after 10 seconds the left fails.
Condom
The right one must shove there Joy-con into the lefts Joy-con, which is held in their penis area.
Nothing
Do nothing and then a random side wins.
After this point all minishames get unlocked after playing these games.
Asploded
The right one must hold his Joy-con up to the left's face, and the left must slap it if its a Pie or he'll eat it and Asplode.
Crossbow
The left shoots right with a crossbow and kills the right one automatically.
Diaper
One player only, the left must guess what diaper has the most poop, and must eat it.
Steamroller
The left Joy-con must slide over the right one.
Apocalypse
Use your Joy-cons to slap a meteorite at each other until one misses, and the other one dies.
Modes
Team
Many random people fight eachother on teams, simple isn't it?
Swiss Shuffle
It choses what game you play.
Community content is available under
CC-BY-SA
unless otherwise noted.