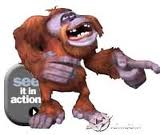 0 Chimpanze is actually an orangutan who wanted to be a fox but he renamed himself 0 Chimpanze when he became one. This makes no sense but dont tell him that or else he will go bonkers. 0 Chimpanze likes to taunt people and make fun of them. He is actually even worse than
Super Eviler Bowser
because he affects people socially and mentally unlike Super Eviler Bowser who affects people physically (he also eats them). 0 Chimpanze is known for destroying places without touching them just by laughing and taunting at it. It nearly destroyed
Ft. Lauderdale
but then,
Redneck Joe
and his 2 sons took out their
AK-47
s and shot him. He died and they threw him into the ocean ...... or did he? He is supposedly living under the sea and living in
The Little Mermaid's palace
, regaining his energy to destroy Ft.Lauderdale and then The Little Mermaid's Palace even though they hospitialized them after he died. Even though he is a primate, he hates bananas and eats berries and rats like a fox and occasionally a
Magic Taco
to replenish his potassium levels without eating bananas. He also is the self-proclaimed enemy of the superhero,
Fatman
and he works with
M.Bison
to kill him. He supposdley originated from a dense forest in the
Sahara Desert
and his parents were
Pops
and a
Diko
.