Line 33:
Line 33:
 

#A [[Nintendo Switch]] game

 

#A [[Nintendo Switch]] game

 

#A booklet containing detailed instructions on how to abolish [[communism]]

 

#A booklet containing detailed instructions on how to abolish [[communism]]

 
+

#5 gallons of phenyl oxalate ester

 

[[Category:Food]]

 

[[Category:Food]]

 

[[Category:Dangerous Food]]

 

[[Category:Dangerous Food]]
---
Revision as of 16:27, 14 April 2018
A 0 Burger is an evil and poisonous burger created by Captain 0 specifically for feeding to his enemies. Chuck Norris one tried the 0 Burger, but he said it tasted just like a regular burger. For some reason, this guy keeps updating the recipe.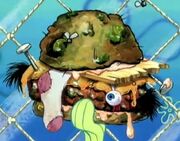 Ingredients
22 bmper stickers
An entire bottle of glue
A sock
A tiny mirror
64 year old buns
One BOTH of Justin Bieber's eyeballs
A quart of Sanic Sauce™
3 fried elbows
Any type of Pokemon
Your computer
9 diamonds
7 tacos
Both of any fish's lungs
⅓ of a pillow
6 tablespoons of Lamp Oil
A VHS
23½ Po Doodles
A 😂 emoji
Another 0 Burger
A stale reddit meme
1½ gallons of Worcestershire Sauce™
A cup of Milk
A Nintendo Switch game
A booklet containing detailed instructions on how to abolish communism
5 gallons of phenyl oxalate ester
Community content is available under
CC-BY-SA
unless otherwise noted.