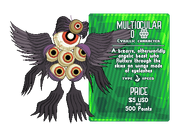 ꙮ (full name: Multiocular O) is an evil heptaclops from hell. He is the son of the Wall of flesh.

Description
Birth
One day four people were playing Terraria at the same time. All of them were unfortunately killed by the Wall of Flesh. He then created a baby with their eyes (One of the eight eyes was gone forever, that's why it only had seven eyes). ꙮ was then born. Giygas became the godfather of ꙮ added wings to him. Satan sent him to the UnWorld in case to kill everyone.

UnWorld Invasion
When he first arrived at the UnWorld, he went to McDonald's and secretly put some Giygas' Kolk into the burgers. Whoever ate the burgers, whoever dies. Then he went to New York and destroyed both the Empire Building and the Statue of Liberty. He also went to Bikini Bottom to destroy OVER 9000 Coral and killed Squidward Tentacles, Mr. Krabs and Squilliam Fancyson with the help of Plankton. He EVEN WENT TO Hyrule TO EAT ALL THE DINNER FROM King Harkinian, MAKING HIM STARVE FOR 20 DAYS!!! However, King Harkinan did not DIE because he eats three times as much dinner than the others. He then went on to join the Space Biker Gang "The Zonkaloids" led by Freddy Freaker

Death
When ꙮ is heading to Japan, he was Roundhouse Kicked by Chuck Norris and was sent to hell again. Since he did not kill everyone, he was severely punished by Satan that he couldn't go to the UnWorld again.